Choctaw Grand Theater | Durant, Oklahoma
Southern rock and country music fans are now highly excited to raise their glasses soon when Whiskey Myers coming rolling into town to bring the house down. The band whose hit "Stone", created a top ten smash on the all-genre Billboard 200 chart, is due to jump on the live concert stage of the Choctaw Grand Theater on Friday 19th November 2021. Get inebriated with their tight and compelling energy onstage as they showcase their unbridled passion, searing guitar riffs, gritty yet soulful vocals– with Playboy magazine tagging them "the new bad boys of country music." Before you say 'cheers', make sure you've got your tickets on hand. Don't let this larger-than-life concert slip, get a grip on those hot tickets now!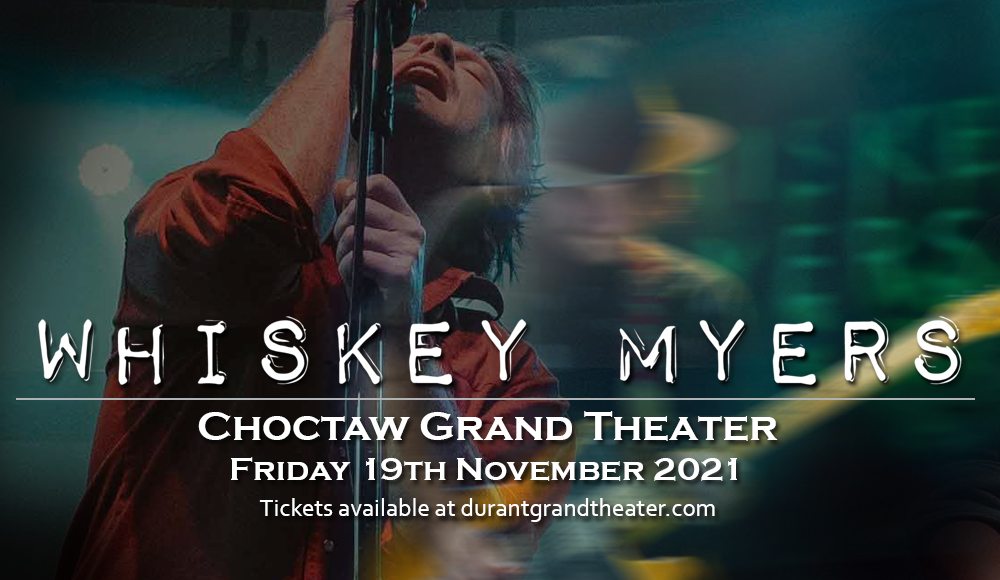 Whiskey Myers has been labeled as an American Southern rock/country group, yet this band from Palestine, Texas has now been described as 'genre-bending as they debuted on the top spot of Country and Americana/Folk sales charts, at No. 2 on the Rock chart and No. 6 on the all-genre Billboard 200 chart. Their most recent album, "Mud", hit the No. 1 spot on the iTunes country chart with single "Stone" hitting Top 10 all genre.
"We just bring our songs to the table and make it sound like us," says lead singer Cody Cannon. "We never think about it. We just try to go in and write a good song, whether it's country or rock and roll or blues."
"There's never a plan or the sense that we need to make a song sound a certain way," adds guitarist John Jeffers. "A country song could end up a rocker or the other way around — it's extremely organic, and that's always been us as a band."
One of their landmark releases was their sophomore album "Firewater", which put them on the music map, so to speak. To date, the band has released five studio albums, alongside a slew of live performances where they earned a steadily growing and loyal fanbase.
Music media has also taken notice of Whiskey Myers' current yet inspired sound. USA Today describes the band's frontman Cody Cannon as "a riff-heavy blend of Southern rock and gritty country that has earned comparisons to the Allman Brothers Band and Led Zeppelin," with Rolling Stone noting "it's the seminal combination of twang and crunchy rock & roll guitars that hits a perfect sweet spot."
Whiskey Myers is composed of Cody Cannon (lead vocals and acoustic guitar), John Jeffers (lead guitar, slide guitar, lap steel guitar, vocals), Cody Tate (lead and rhythm guitar), Jeff Hogg (drums), Tony Kent (percussion/drums), and Jamey Gleaves (bass).
Don't miss an awesome evening rockin' with Whiskey Myers. Lock in this date and book your tickets now!