Choctaw Grand Theater | Durant, Oklahoma
Known for its electrifying (pun intended) live shows, Tesla is headed to Choctaw Grand Theater on Saturday 6th April 2019! The rock powerhouse has been on the road for several years with Def Leppard, as well as with Styx and Joan Jett and the Blakchearts, and shows no signs of slowing down, taking to the stage as a solo headliner this summer to promote its upcoming album, Shock! No wonder this tour is creating quite a buzz!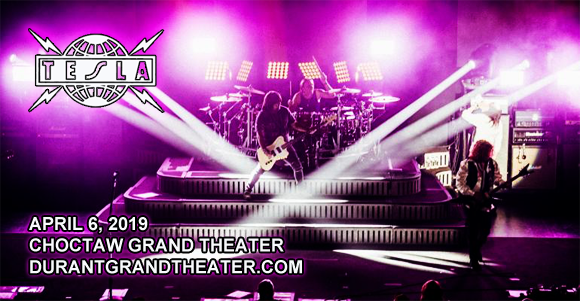 Formed in Sacramento, California in 1981 by bassist Brian Wheat and guitarist Frank Hannon, Tesla is an American rock band. Originally known as Earthshaker, then City Kidd, the band was joined by lead vocalist Jeff Keith, drummer Troy Luccketta, and guitarist Tommy Skeoch in 1984, and changed its name to Tesla during the recording of its 1986 debut album Mechanical Resonance. Moving away from their glam metal roots to a more hard rock-oriented sound, the group's second album, The Great Radio Controversy, produced five hit singles, including the power ballad "Love Song". The group continued to enjoy success throughout the late 1980s and early 1990s, before disbanding in 1996. They reformed in 2000, with Tommy Skeoch leaving to be replaced by Dave Rude in 2006. Throughout their career, the band have sold over 14 million albums in the United States.