Choctaw Grand Theater | Durant, Oklahoma
Great music lovers everywhere, pay close attention! The incredible guitarist CARLOS SANTANA is hitting the Choctaw Grand Theater on Friday the 7th July. Get your tickets NOW for this unmissable show!!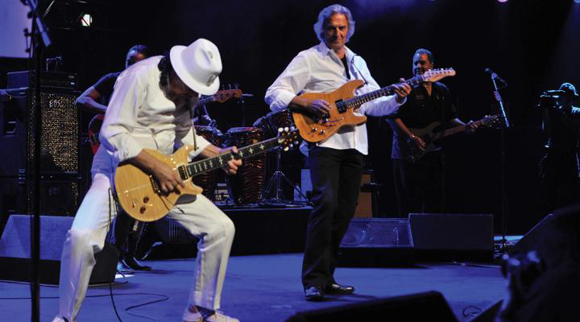 Raised on traditional Mexican music and trained to play guitar from the age of 8 by his father, a mariachi musician who "played the old Tijuana sound" Carlos Santana's musical influences have been rich and diverse from the start. Still a teenager when he graduated high school in San Fransisco in 1965, seeing the hippy movement happen all around him and being exposed to new genres and styles aplenty. From African drumbeats and instruments to electric blues guitar, and with the influences of teachers Jerry Garcia and Peter Green of Fleetwood Mac, Santana created a truly unique form of psychedelia that mixed blues, rock, Latin and world music that remains cohesive and compelling to this day.
His standout Woodstock performance in 1969 blasted him to public prominence, causing the "Santana" album to become an instant hit, with every subsequent album enjoying the same success since. His 1999 album "Supernatural," full of star-studded guest appearances, won no less than 9 Grammys and won him spot #20 in the Rolling Stone magazine's list of the 100 Greatest Guitarists of All Time and praise abound – according to fellow artist Prince he "played prettier" than Jimi Hendrix.
Carlos' own attitude to his music is a spiritual one – he always aims to convey feeling through the guitar, and believes that the power of music is stronger than that of speech.
Come and see for yourself – get your tickets to see Santana live while they last!!