Choctaw Grand Theater | Durant, Oklahoma
Disbanded but never quite inactive, Ian Anderson is keeping the Jethro Tull experience alive and healthy for fans across the US with his 2017 tour. He'll be coming to the Choctaw Grand Theater on Thursday 1st June 2017. The singer-flautist's skills and attitude are as sharp as ever – fans of the band will be raving to see the legend in the flesh. So what are you waiting for? Grab your tickets now!!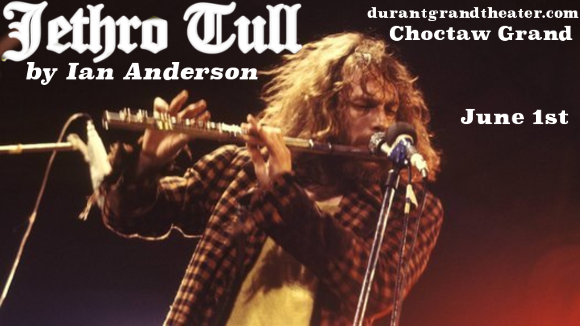 Known for their wild stage performances, folk influences and general bold musical transgression from what had originally been a straightforward blues-rock band, Jethro Tull have made their mark on musical history with iconic albums such as "Aqualung," and "Thick As a Brick," at which time they were seen as furthering the progressive rock genre. They later shifted back into hard rock mixed with folk with the albums "Songs From The Wood," and "Heavy Horses" – all released to enormous critical delight and acclaim.
The band have since sold over 60 million records globally, certifying a whopping eleven albums gold and five platinum. Last officially touring as late as 2011, the band finally ceased in 2014, but their frontman is certainly keeping fans satisfied regardless. The material will feature best-known Jethro Tull classics, together with a few rarely-played pieces, creating a "multimedia" best-of compilation show, rounded out by "the regular rock band," that any Tull fan will be enthralled by.
So don't miss out – get your tickets to experience these icons of rock and roll history for yourself!!