Choctaw Grand Theater | Durant, Oklahoma
The irrepressible Whitesnake comes to Choctaw Grand Theater on Saturday 13th April 2019! The iconic rock band, responsible for mammoth hits like "Here I Go Again" and "Is This Love", are continuing to celebrate their four decades in the industry:
"We are truly excited and looking forward to playing across the globe in 2019 on what will be a continued celebration of the 40th anniversary of Whitesnake," Coverdale said in a statement. "I am so honored and grateful to have toured this incredible world we share, for over 40 years, celebrating and enjoying unforgettable moments with millions of people, all of whom have joined me on this amazing journey. I truly love the shared experience and simply love my job and always will. … Over four decades of reptilian fun!"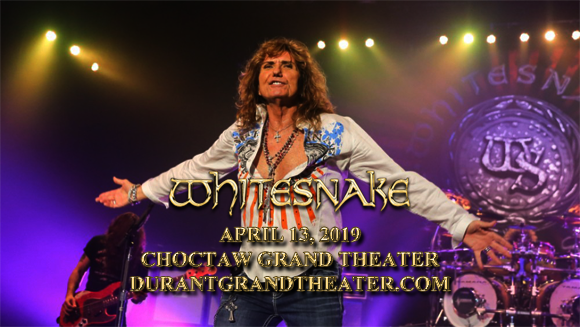 English rock band Whitesnake was formed in 1978 by singer and frontman David Coverdale after his departure from his previous band Deep Purple, with many of its core line-up previously working as Coverdale's solo backing band The White Snake Band on his White Snake (1977) album tour. The group enjoyed a string of UK top 10 albums throughout the 1980s: Ready an' Willing (1980), Come an' Get It (1981), Saints & Sinners (1982) and Slide It In(1984), the latter of which was their first to chart in the US and is certified double-platinum. The group scored its biggest success with its eponymous 1987 album, which contained two major US hits, "Here I Go Again" and "Is This Love", reaching number one and two on the Billboard Hot 100. The record went 8 times platinum in the US, and was an international hit that saw them nominated for the 1988 Brit Award for Best British Group. Their eighth studio album, Slip of the Tongue (1989), was also a success, reaching the top 10 in the UK and the US, and receiving platinum certification in the US. The band members went their separate ways after the release of Slip of the Tongue, briefly reuniting in 1994, and again in 1997 to record the one-off album Restless Heart. They reformed officially in 2002 and have been touring together since, releasing three albums, Good to Be Bad (2008), Forevermore (2011) and The Purple Album (2015).