Choctaw Casino & Resort | Durant, Oklahoma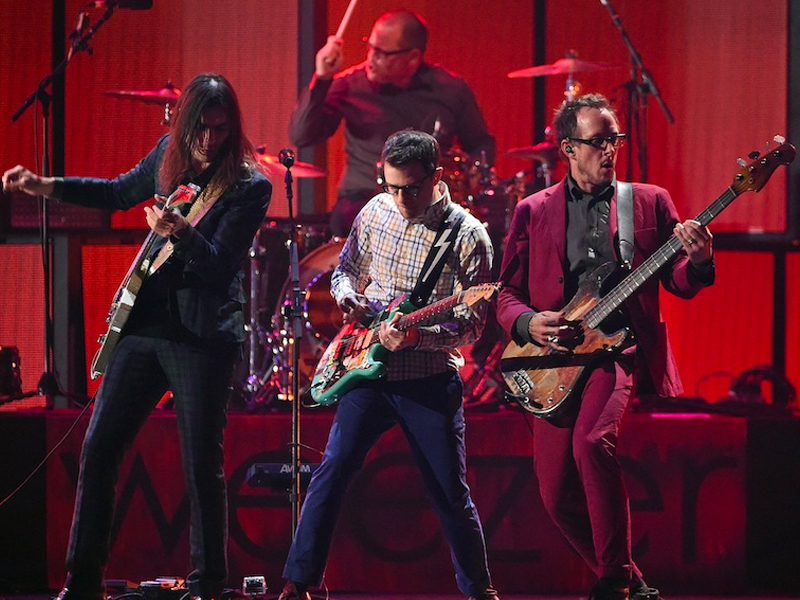 A high-energy concert will welcome you this Friday, December 29, as you immerse yourself in the highly-anticipated show of the iconic alternative band Weezer at the Grand Choctaw Theater. Rivers Cuomo, Pat Wilson, and the rest of their bandmates will make the few days of 2023 extra memorable as they bring their "Indie Rock Road Trip" to the heart of Durant, Oklahoma. Get ready to sing along to Weezer's hits, including "Island in the Sun," "Buddy Holly," "Say it Ain't So," "Across the Sea," and ""The World Has Turned and Left Me Here," among many others. With over 35 million albums sold worldwide, Weezer is undoubtedly one of the best in the business. But don't be fooled by these numbers. Although they have become so massive over the years, the band is still one of those who didn't let their fame get into their heads. Loyal Weezer fans know that whenever you are at their concert, you are in for an intimate performance that would still make you feel like you are part of a big family. And this Oklahoma concert will surely do just that. So, better reserve your tickets as early as today because they will likely sell out soon. Click the "Get Tickets" link for ticket reservations.
Weezer dominated the post-grunge era with their tuneful compositions, twangy guitar riffs, and geekyness. Their sound is a unique blend of alternative pop, rock, and 70s metal. With this kind of style, they produced 15 equally impressive albums. Their popularity is boosted by their charm. This is an attribute aided by their members who purposefully follow an unconventional approach to their music, focusing only on composing fun tunes and lyrics. Humor is a primary element of their records, and it made them stick out among dark and heavily disgruntled artists of the scene.
The main man behind the Weezer's formation is Rivers Cuomo. The band's conception can be traced back to the time he moved to Los Angeles in 1989. A Connecticut native, he stayed afloat in the City of Angels doing gigs. At first, he moved with his high school band named Zoom. When they disbanded, he struck a friendship with drummer Patrick Wilson. They then established the band Fuzz. This band also disbanded. In 1992, Weezer was formed with Cuomo, Wilson, Matt Sharp, and Jason Cropper as members.
The band debuted that same year, closing for Keanu Reeve's band, Dogstar. When November came, they had already recorded a demo entitled "The Kitchen Tape." This record caught the attention of the Geffen Records, which signed them a year later.
In 1994, Weezer released their debut album, "The Blue Album." The reception for the album was positive. Pitchfork described it as an album with "geeky humor, dense cultural references, and positively gargantuan hooks." Its accompanying single "Undone – The Sweater Song" was a hit. Its music video became a favorite on MTV. The album's third single, "Say It Ain't So," became a top 10 track on Pitchfork's list. At the end of the year, the debut album was up for a multi-platinum certification. Their sophomore album "Pinkerton" came out in 1996. It received mixed reviews and barely lived up to the debut's success. Afterward, the band went on a hiatus.
They came back in 2001 with "Weezer (Green Album)." It brought the band a renewed popularity. This was the time "Pinkerton" began to receive an internet cult following, which was a reason many people were anticipating the release. They had a stint of rebelling when their fourth album, "Maladroit," came out. The band recorded and released songs (mostly incomplete) during the album's conception, asking for the fans' suggestions. This resulted in a beef with their record label Geffen/Interscope. Even with the issues surrounding the album, it was received well by fans. In the years that followed, they produced 11 more albums, with "Van Weezer" as their most recent.
The punk-pop legendary band will be performing at the Choctaw Grand Theater on December 29. See you there!