Choctaw Grand Theater | Durant, Oklahoma
Get ready for the hottest Texas country act of the year!! The Choctaw Grand Theater is proud to bring you the long-awaited tour stop from the Turnpike Troubadours on Saturday 1st April 2017! Tickets are currently available for this must-see show, but be quick to snap yours up – they won't last long!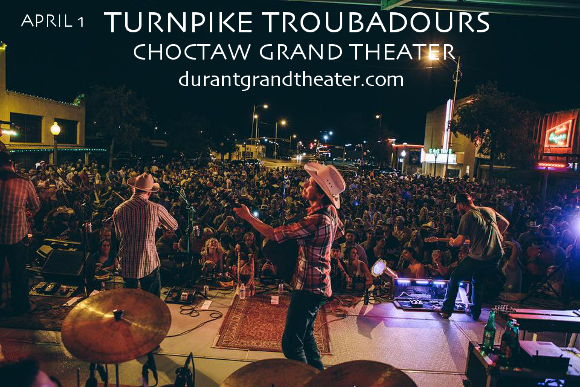 Fitting firmly into the Red Dirt genre, the Turnpike Troubadours have been steadily but surely climbing up the ladder towards mainstream recognition, all the while staying true to their roots. They received a lot of recent attention for their self-titled 2015 album – and no wonder, because it sold 19,400 copies in its first week alone and shot straight up all the way to number 3 in the Billboard Country Albums Chart! But they're not relying on that – they've been making their name on the road, constantly selling out on the Red Dirt circuit for over 10 years, starting out in venues in Oklaholma and Texas and gradually expanding to the rest of the US even selling out clubs in major cities where their genre isn't so popular and turner many a country hater into a die-hard country fan! At this rate, they look set to conquer the country.
Their albums are intimate experiences, with great lyrics and, like any truly great songwriter(s) worth their salt, fantastic stories. Their live show, on the other hand, is guitar heavy, with some seriously amazing fiddle and the most down-to-earth, raw energy in their sound that you have ever heard. If either sounds up your street (and why wouldn't it??) grab your tickets now and rock up early on the 1st April to get the best spot you can! It's going to be an amazing night!!