Choctaw Grand Theater | Durant, Oklahoma
Fans listen up ya'll, it's that time you've all been waiting for as Toby Keith comes to Choctaw Grand Theater! Here's your chance to catch it all, just grab a ticket and come down on Saturday 27th May 2017!
Toby Keith always gives a performance to blow each and every crowd away…. full of energy, charisma and charm, he will be performing all of your favorite songs to the LIVE stage! If you love his music then be sure to get on down so that you'll be able to look back and say 'I Was There!'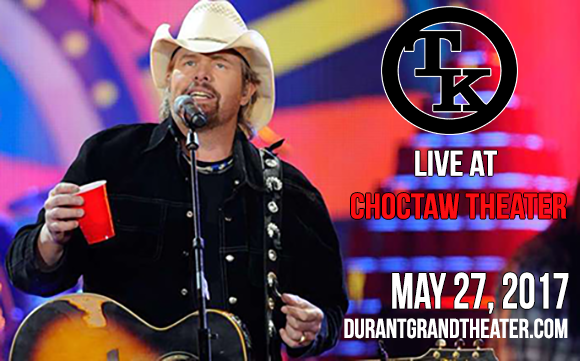 The Country superstar Toby Keith has definitely rocketed into a multi platinum artist status and is recently transforming his career into a brand new chapter. Staying top of the charts, all over the front page of magazines and tv with interviews and radio appearances. It's pretty clear to see why this incredible musician and singer has gained Entertainer of the year awards! Along with being credited in the Songwriters Hall of Fame!
"I've been writing songs every day of my life since I was 15 or 16." Keith says, " I don't think I could go back and rewrite 'Should Have Been A Cowboy' and make it any better. There are little things every once in a while you think you could change, but most of the time there ain't a word I could fix."