Choctaw Grand Theater | Durant, Oklahoma
Fans of Southern gospel get ready for a treat. The sensational Oak Ridge Boys are coming to the Choctaw Grand Theater on Friday 24th March as part of their 2017 tour! These legends are still going strong, now sporting long flowing white beards instead of 60's hairdos, and they're simply better and more loveable than ever before!! It's going to be an amazing show – click the button above to get your tickets now as they're very likely to sell out!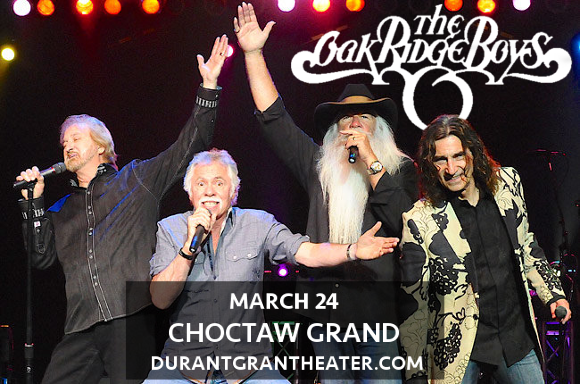 The Oak Ridge Boys have an interesting history behind them. Originally a Tennessee country group called the Wally Fowler and the Georgia Clodhoppers, they were often asked to perform at the nuclear research plant in nearby Oak Ridge, Tennessee, to staff members and their loved ones who were restricted by the Second Word War. So often, in fact, that it led to a name change to the Oak Ridge Quartet, and a focus by the group on gospel due to those songs being the most popular in their repertoire.
After several more changes in lineup and direction, evolving from their country gospel roots, the Oak Ridge Boys started to have country and crossover hits with their 80's lineup, including well-known and much loved songs such as "Elvira", "Bobbie Sue", and "American Made." They only relatively recently released their amazing live album, gaining them a whole host of new fans who had never heard them before. On October 25, 2015, they found themselves inducted into the Country Music Hall of Fame, in the modern era artists category, during the Medallion Ceremony – well-deserved recognition for a band that's been touring and recording for more than 40 years!