Choctaw Grand Theater | Durant, Oklahoma
Singing 'coming out of my cage, and I've been doing just fine, The Killers, are down to kill it live on stage as they hop on a set of 2023 tour dates, extending their Imploding The Mirage Tour in support of their 2020 album of the same name. The record features their hit singles "Caution" and "My Own Soul's Warning". Having made big rounds on the radar since their massive breakout hit "Mr. Brightside", you definitely 'gotta gotta be down to catch their biggest hits and new records live on stage, performing a special set at Choctaw Grand Theater on Friday, 24th of March 2023. Make sure to mark your calendars and book those tickets now!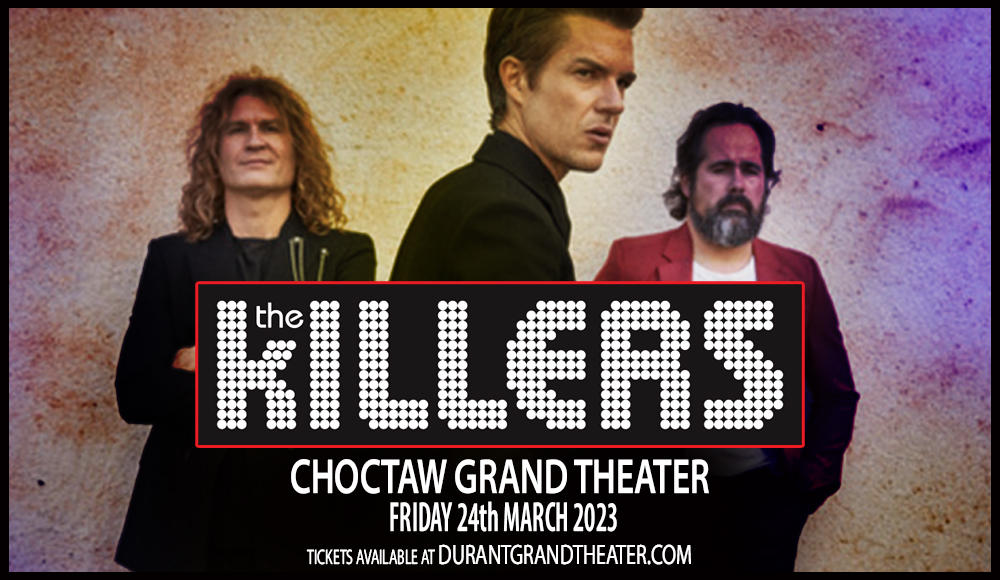 With a debut hit that stormed nightclubs and house parties since its release, "Mr. Brightside" rockers, The Killers, are setting foot back on stage as 2023 comes rushing through. The American rock band is extending The Mirage Tour in support of their 2020 album, hopping on a series of tour dates as the year starts.
With talks of a new album right around the corner, The Killers are set to extend the momentum of Imploding The Mirage with their explosive live performances of their biggest hits and the album's crowd favorites. Following their sixth UK #1 album, The Killers released their seventh #1 studio record "Pressure Machine" in August 2021.
"A full record will probably be early next year but there will definitely be some singles this year." frontman Brandon Flowers shared in an interview earlier this year.
Earlier this year, the band unveiled a new single "Boy" which was an outtake from their "Pressure Machine" sessions. "What's interesting is that it just didn't make it onto the record – but its absence is not a reflection of the quality of the song. It was an aesthetic decision to keep it off the record." he shared.
As The Killers gear up for big surprises in the coming months, make sure you don't miss out on Imploding The Mirage Tour's extended dates as the new year comes through. Book your tickets now!