Choctaw Grand Theater | Durant, Oklahoma
Taking you back to the glory days of hard rock and glam metal of the 80s, it's 'time to rock as Tesla extends their extensive 2023 tour to June, stopping by at Choctaw Grand Theater on Friday, 16th of June 2023. As the acclaimed hard rockers behind "Love Song", "Modern Day Cowboy", and "Signs", Tesla became a radio favorite for their melodic hard rock anthems and heavy metal hits. As the band extends their Time To Rock Tour 2023, save your seats at the show by booking those tickets now!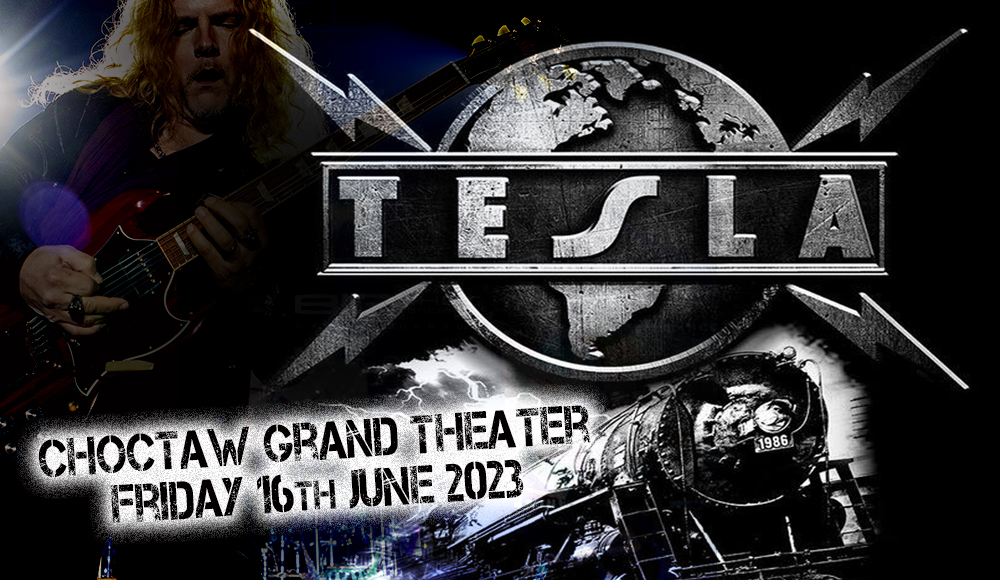 If you've been looking for the greatest hard-rock concert to attend as summer strikes, this is your sign! Legendary American rock band Tesla is extending their "Time To Rock Tour 2023", adding more shows this June, including a special rockin' stop at Choctaw Grand Theater on June 16. The band will bring their biggest hits dating back to their glory days of the late 80s and early 90s, including their new hard hitters.
Releasing their sophomore record "The Great Radio Controversy" back in 1989, the band became a staple radio favorite for their heavy rock anthems including "Love Song", and "Heaven's Trail (No Way Out)". Led by the vocals of Jeff Keith, every track exudes a unique hard rock flair. From ballads to adrenaline-inducing rock anthems, Tesla's catalog is one for the books.
The band's hits in their succeeding records include "The Way It Is", "Edison's Medicine", "Signs", "What You Give", "Song & Emotion", "Caught in a Dream", and many more. Tesla has sold over 14 million albums in the US alone, ranked at #22 on VH1's list of 100 Greatest Artists of Hair Metal.
Lasr July 2022, Tesla released their new single "Time To Rock", following the previous year's "Cold Blue Steel". Taking pride in producing the latter singles themselves, the band looks forward to new releasing a self-produced album.
"'Cold Blue Steel', we produced it ourselves, and this new song — it's called 'Time To Rock'," band guitarist Frank Hannon shared with Sonic Perspectives. "I've been producing it and working on it for about two months. And it'll ultimately get put on a self-produced album."
Acclaimed for their legendary heavy rock and metal hits from the late 80s and early 90s, Jeff Keith shares that the band continues to write new material. "You know, TESLA, we're old dogs but we still like to write new stuff," he. shared in "Metal From The Inside" podcast. "Because sometimes, being as far back as we are, you can just go out and play your catalog from '86 to whatever it may be, but we like to throw new stuff in there; we just like to write songs. So it's fun to have a new single."
Every Tesla live show is a testament to the band's passion and dedication in keeping their craft alive. Every fan's energy and enthusiasm on tour signifies how Tesla's music is definitely one for the books. As they continue working on new material one step at a time with new singles "Cold Blue Steel" and "Time To Rock", the band is definitely still alive and kicking, calling declaring that it's definitely the time to rock it all out.
Don't miss out on this Time To Rock with the one and only Tesla, live on stage at Choctaw Grand Theatre on June 16th by booking your tickets now!