Choctaw Grand Theater | Durant, Oklahoma
There are some bands so iconic that they need no introduction and Southern rock stalwarts Lynyrd Skynyrd are one of those bands! Coming Choctaw Grand Theater on Saturday 4th September 2021 as part of their Big Wheels Keep on Turnin' Tour, the group will once again take to the stage for a night of classic Skynyrd hits, much to the delight of fans who thought they'd seen the last of the band on their Last of the Street Survivors Tour… All good things must come to an end, but not just yet, so make sure you grab your tickets for this unmissable opportunity to see them in action!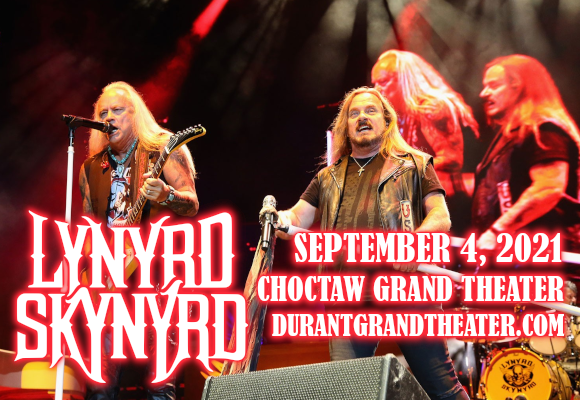 Originally known by the name My Back Yard, Southern rock band Lynyrd Skynyrd was formed in Jacksonville, Florida in 1964. The group spent five years performing local shows and touring smaller US venues before changing its name in 1969, marking the next phase for the band. Their eponymous debut album, which was released in 1973, brought the band instant success, selling over one million copies and launching the seminal single "Free Bird". The next four years were a period of huge success for the group, who launched a number of classic hits, including "Sweet Home Alabama," "Simple Man," "What's Your Name," "That Smell," "Gimme Three Steps," via five studio albums and one live album. Then, in 1977, tragedy struck when, just three days after the release of their album Street Survivors, their chartered airplane crashed, resulting in the death of Ronnie Van Zant, Steve Gaines, and backup singer Cassie Gaines, and leaving the rest of the band seriously injured. After a decade, the band reformed with Ronnie Van Zant's brother Johnny as lead vocalist and since then they have continued to tour and record. The group had planned for their 2018 Last of the Street Survivors Tour to be their farewell outing, but in June 2021 they announced that they would hit the road once more on the Big Wheels Keep on Turnin' Tour.