Choctaw Grand Theater | Durant, Oklahoma
He took the world to church back in 2013, with a Diamond-awarded anthem that defies the status quo in "Take Me to Church", Hozier just announced back-to-back surprises with a new album, tour, and EP on the roster. The Irish singer-songwriter just returned with a new EP "Eat Your Young" while announcing a new album and North American tour slated this fall. Hozier will be stopping by at Choctaw Grand Theater on Friday, 13th of October 2023. As the man brings his biggest hits and new music on an extensive comeback tour, make sure to book your tickets now!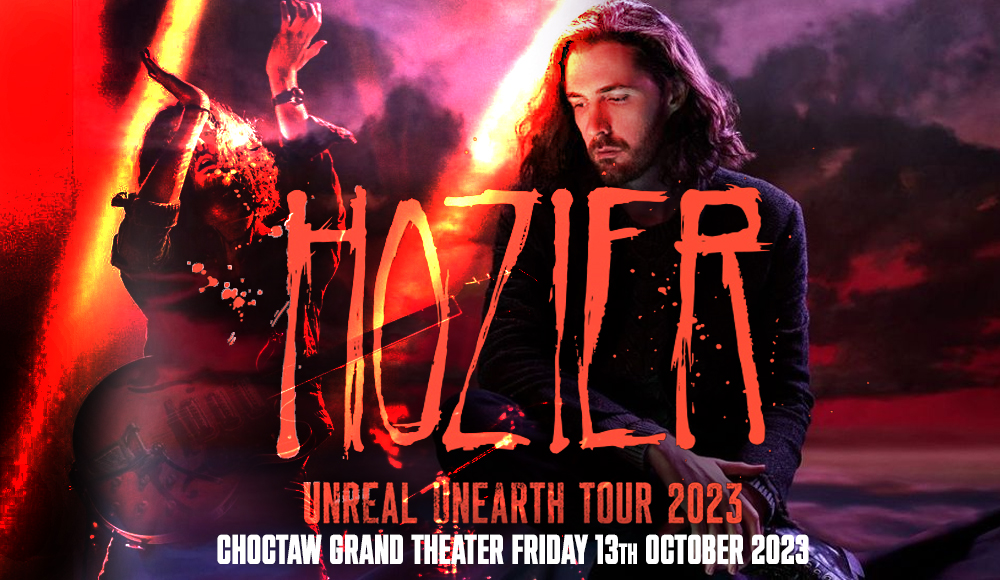 The critically-acclaimed Irish singer-songwriter, Hozier, shook global airwaves with his extremely impactful debut hit single "Take Me to Church". The track hit #2 on the Billboard Hot 100, amassing a Diamond (12x Platinum) certification from the RIAA. Driven by passion and purpose in his craft, Hozier continues to deliver powerful anthems such as "From Eden", "Someone New", "Cherry Wine", "Almost (Sweet Music)", and "The Parting Glass".
As 2023 came in full swing, Hozier took fans by surprise as he announced his upcoming album and North American Tour "Unreal Unearth". The back-to-back announcement follows the release of his newest EP "Eat Your Young", featuring three new songs. After performing at an Irish pub prior to the record's release, "I just hope you enjoy it and thank you so much for all of the support and I will see you very soon." he shared on Instagram.
Announcing the Unreal Unearth album and Fall tour, "Excited to announce the 2023 #UnrealUnearth album tour," Hozier shared on Twitter. "Looking forward to sharing these songs and playing them for you later in the year. Much Love."
Having made footsteps in the industry since 2008, Hozier found his big break in 2013 when his demo track for "Take Me to Church" scored him a record deal. Later on, the track was officially released with a "shoestring budget" music video, becoming viral and subsequently topping charts globally. The track was acclaimed for its lyrics and messaging. In 2015, the song was nominated at the 57th Grammy Awards for Song of the Year.
"I tried to be as honest as possible with the lyrics and the production has a choral energy to it, kind of a gospel feel, which adds a lift," Hozier shared in an interview with The Guardian. "I've had a few delightful open letters from pastors who have a few choice words to say. But the song isn't about Baptist or evangelical Christianity, it references more the Catholic church."
As a musician driven by his raw honesty and passion, the success of his hit single and debut album took him by surprise, performing headlining tours and various festivals. With his third LP coming out this summer, Hozier looks forward to sharing his fan-favorite hits and new music live on stage at the Unreal Unearth Tour this Fall. Don't miss out by booking your tickets now!