Choctaw Grand Theater | Durant, Oklahoma
Lovers of great country – and just plain great music – get ready for the best show of your lives! None other than Hank Williams Jr. will take to the stage of the Choctaw Grand Theater on Friday 9th June 2017 for one truly unmissable night! Tickets are fast disappearing – click the "Buy Tickets," button above and grab yours now to avoid disappointment!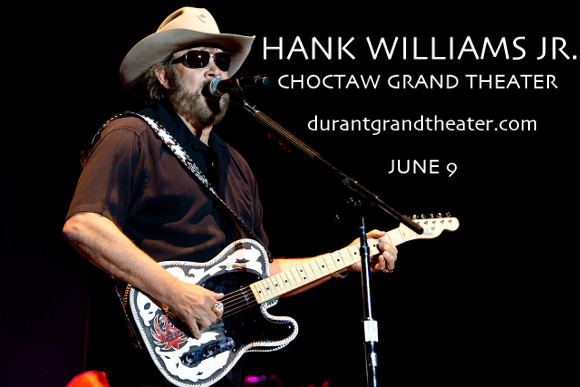 Hank Williams Jr, son of the great Hank Williams, had a lot of hoops to jump through in the shadow of his father to make it in an already dog-eat-dog industry. He started out copying his father's style, singing his songs, and didn't find an audience, but after a near-death experience in 1975, he realised exactly what he had to do! Hank Williams Jr. returned to the music scene with a fresh new style that came seemingly from nowhere, blending rock and blues into his country roots and finding his own, unique, distinct and powerful voice. Challenging the mainstream Nashville standard for acceptance, he garnered a massive fanbase both within and outside of the country community, and its easy to see why. Best selling albums such as "Family Tradition", "Whiskey Bent and Hell Bound" and "Habits Old and New," all released in a prolific stream of releases in the 80s, are accessible and enjoyable for just about everyone, country fan or not. In the course of his career, Hank Williams Jr. has had hit after hit single, with 10 number ones and 44 top 10 in the Billboard Top Country Charts.
Got your tickets? Good! Get there early on the day to catch the best spots and make it the best night you can – and trust us, it doesn't get much better than this!!