Choctaw Grand Theater | Durant, Oklahoma
The legendary British-American rock band, Foreigner, is gearing up to dominate the stage on tour for the very last time. Forty-five years since the start of their height, the "I Want to Know What Love Is" rockers are bidding farewell to decades of rockin' music through its Historic Farewell Tour. The tour will make a historical stop at Choctaw Grand Theater on Friday, 14th of April 2023. With music that transcends through time, Foreigner's hits have passed through every generation of listeners. Don't miss out on this last chance to rock along to "Waiting for a Girl Like You", "Juke Box Hero", and "I Want to Know What Love Is" live on stage by booking your tickets now!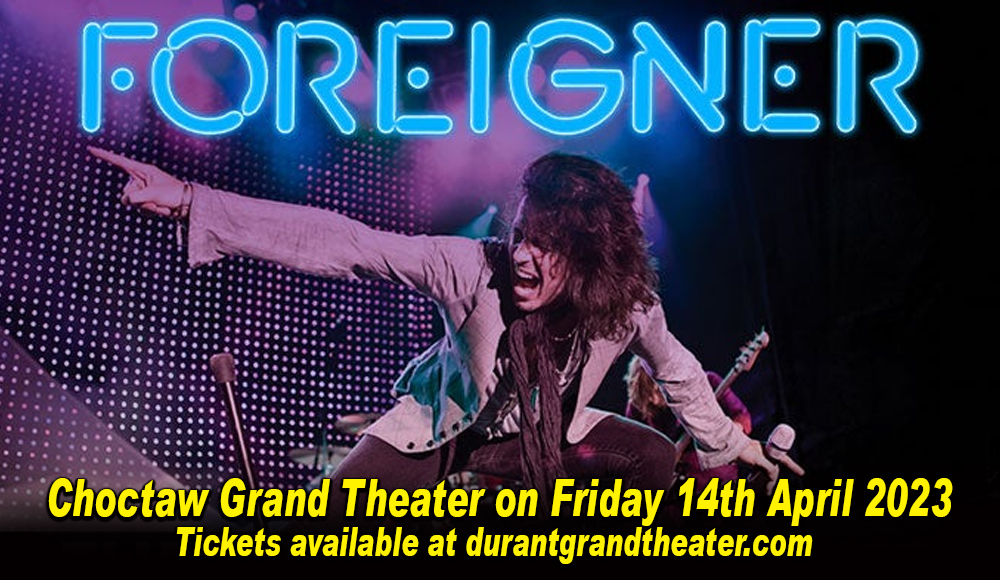 With over forty-five years of glorious rock music and hits that transcend through time, Foreigner is gearing up to bid farewell in an extensive 'The Historic Farewell Tour' slated to begin this 2023. Launching the first leg of the tour which will take place in North America, the band intends to announce more international dates before the final show, planning to tour up until 2024.
"Many years ago, I wrote a song called 'Feels Like The First Time' and today we are launching one last worldwide tour," said founding member Mick Jones. "We will be presenting a show that I know will have the same enthusiasm as our very first appearances,"
Formed in 1976, Foreigner was founded in NYC. Releasing their self-titled debut album in 1977, the band sold over five million copies in the US, and bagged three hit singles with "Feels Like the Firtst Time", "Cold as Ice", and "Long, Long Way from Home". With a successful debut, Foreigner was welcomed home, music to everyone's ears around the globe. In their succeeding records, Foreigner enjoyed heights of fame and success throughout the late 70s and the 80s. Their hit singles include "Hot Blooded", "Double Vision", "Urgent", "Waiting for a Girl Like You", "Juke Box Hero", "Break It Up", and "I Want to Know What Love Is".
Over 50 years since the idea of 'Foreigner' was brought to light by founder Mike Jones, The Historic Farewell Tour is set to mark history, as the band signs off as one of the industry's game-changing rock bands to exist. In 2013, Mike Jones and Lou Gramm were inducted into the Songwriters Hall of Fame.
"Foreigner is a completely revitalized band with a whole new energy that has won the hearts of our fans all over the world, and I want to go out while the band is still at the top of its game," Jones told Billboard. "By the end of our farewell tour, over 50 years will have passed, and that's a long time to be on the road."
Foreigner has dropped nine albums since its debut, five of which have been awarded multi-platinum certifications. With a series of lineup changes throughout its glorious history, Mike Jones remains to be the last original member present since the beginning. As he gears up to bid goodbye to over 45 years of legendary rock shows with Foreigner, the band's music is destined to live on forever.
Don't miss out on The Historical Farewell Tour by the one and only Foreigner by booking your tickets now!