Choctaw Grand Theater | Durant, Oklahoma
Calling all cowboys and angels out there, gather round the Choctaw Grand Theater on Friday 31st December 2021 for the much-awaited live concert performance of country superstar Dustin Lynch. The platinum-selling singer and songwriter of the smash hits "Cowboys and Angels," "Where It's At" and "Small Town Boy" is back on the road to continue his series of shows that were put to a halt due to health issues. And now all is well and Lynch is raring to mount the live stage and give his fans nothing but the best time to have a grand time with his progressive mix of classic and edgy country music sound. Save the date and lock in your tickets now!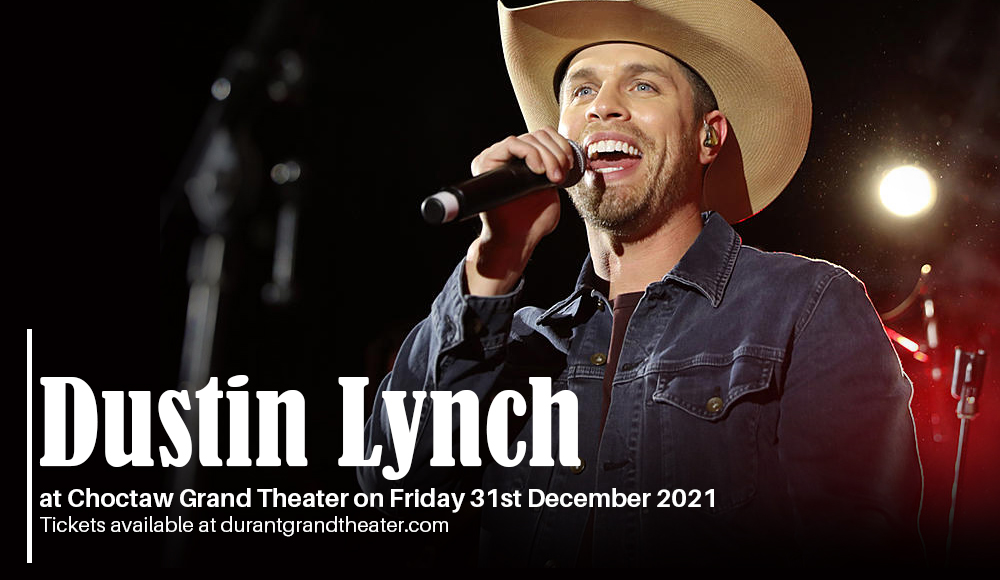 Dropping out a biology degree to pursue medical school, then picking up a guitar for a full-time career in music was the path that Dustin Lynch had chosen. As he received positive reception at a well-known music club where he performed on open mic night, then clinching a record deal with Broken Bow Records, truly there was no turning back for Dustin Lynch. And yes, the country must've been paved smoothly for the young country singer-songwriter whose self-titled debut album peaked at No. 1 on the Billboard Top Country Albums chart and climbed to No. 13 on the Billboard 200. The album was propelled by the lead single "Cowboys and Angels"; then the album's second single, "She Cranks My Tractor", drove him further up the charts as it became his second top 20 hit in early 2013. It was followed by "Wild in Your Smile", which made the top 30. In addition, "Cowboys and Angels" was also gaining traction in the digital space as it garnered 25 million views on YouTube/VEVO, soaring to #1 on the MTV Music Meter and selling 2.4 million digital singles.
Heads were turning and all ears were on this fast-rising young country singer from Tullahoma, Tennessee, who got all raves from:
– ROLLING STONE COUNTRY's "The Best Things We Saw at CMA Music Fest 2014"
– ROLLING STONE's 2013 Best of Rock Issue
– named ELLE's "Best New Country Music Artist of 2013,"
– and picked for both PEOPLE COUNTRY and US WEEKLY's "2014 Sexiest Men of Country."
And with that, Dustin Lynch is one hot ticket that you should grab right here, right now! Get your tickets now!