Choctaw Grand Theater | Durant, Oklahoma
Taking Denim and Rhinestones to the next level as her newest album graced global airwaves with her signature brand of country, Carrie Underwood is set to perform a series of shows throughout 2023. Beyond her new Vegas residency, she's also stopping by a handful of venues to cap the year. The "Jesus, Take the Wheel" singer is stopping by Choctaw Grand Theater on Friday, 20th of October 2023. As the best-selling solo female debut in the country music scene, Underwood continues to dominate the scene with her new records "My Gift", "My Savior", and "Denim & Rhinestones" over the past three years. With a slew of multi-Platinum hit singles such as "Good Girl", "Just a Dream", and "Blown Away", every Carrie Underwood show is definitely a showstopper for her alluring performances and big surprises. As she caps off 2023 with a series of shows across the country, make sure you're part of the celebration by booking your tickets now!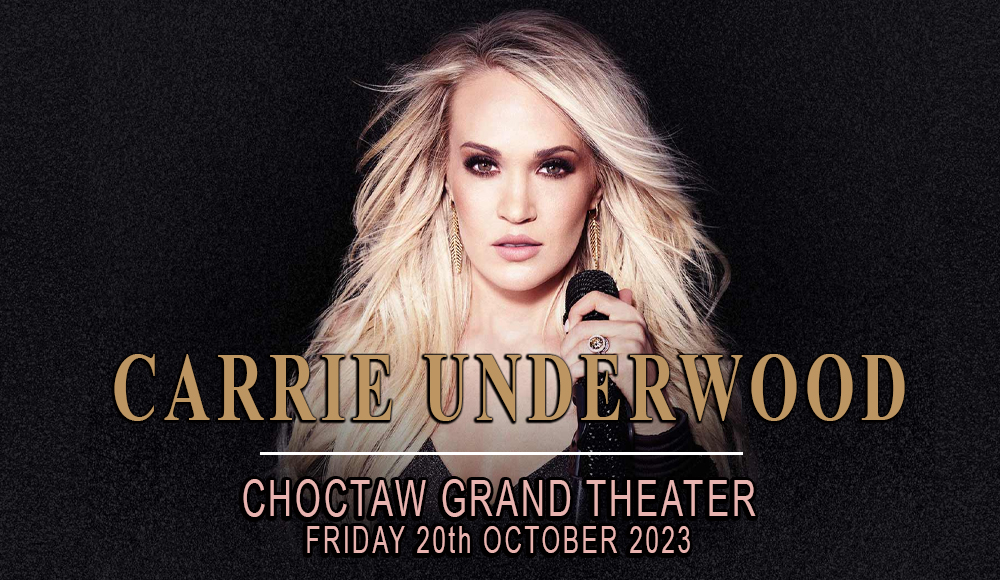 Wrapping up her Denim & Rhinestones tour and prepping for an amazing encore run of her Vegas residency shows with "Reflection", Carrie Underwood is set to perform for a special night at Choctaw Grand Theater on October 20. The singer made rounds after her American Idol reign in 2005 as her debut single "Inside Your Heaven" topped the Billboard Hot 100, the only solo country artist to do so in the 2000s, hitting #1 on the list. Her debut LP "Some Hearts" soon became the best-selling debut record in country music by a solo female artist. Talk about the Underwood power!
Selling over 85 million records globally, she takes a spot as one of the highest-certified female artists in RIAA's Top Artists (Digital Sales) ranking.
Throughout her reign as one of country music's most influential artists, she's won eight Grammy Awards, 17 American Music Awards, five Guinness World Records, 12 Billboard Music Awards, and inductions in the Hollywood Walk of Fame. She's definitely one for the books!
Jesus, Take the Wheel! From an unsuccessful audition with Capitol Records when she was 14 to a massive American Idol win, Simon Cowell's prediction that she would even outsell all past Idol winners, definitely came true. She's grown to become one of country music's best-selling artists with a slew of multi-Platinum hits and several accolades.
Her biggest hits and fan-favorites include "Inside Your Heaven", "All-American Girl", "Cowboy Casanova", "Blown Away", "Good Girl", and "Jesus, Take the Wheel". Her newer hits from her newest trio of albums over the past three years include "Hallelujah" with John Legend, "If I Didn't Love You" with Jason Aldean, "Ghost Story", and "Hate My Heart".
Having brought new music live on stage at her very successful Denim & Rhinestones tour, the woman threw in some new twists to fan favorites at every show. With several dates slated for her Vegas Residency this year, this show at Choctaw Grand Theater is definitely a special stop before she caps off the year back in Vegas.
In a brief talk with PEOPLE as she slides in some promo for BODYARMOR LYTE, the part-time superstar and full-time mother shares that she refocused her energy and goals when it comes to working out. "I feel like now at this point in my life, you really do learn that it is a lifestyle, it's balance," she shared. "It is overall taking care of yourself."
Known for her astounding live productions and big surprises on stage, "It's surprisingly physical being on stage — there's a lot of cardio," she shared. "I'm running around in heels and I honestly write songs that I don't give myself time to breathe,"
As she takes a new direction in taking care of herself and making sure that she gets the energy going, astounding performances can be expected from the one and only Carrie Underwood. So, hurry up and book those tickets now!