Choctaw Grand Theater | Durant, Oklahoma
'It's the only life you got, so you gotta live it big time! Following a highly-successful 'Forever' tour run, the boys are back with big surprises! Big Time Rush just announced their newest Can't Get Enough Tour, following the release of their newest single of the same name. Produced by Live Nation, the Can't Get Enough Tour will kick off this June, stopping by Choctaw Grand Theater on Saturday, 24th of June 2023. The show will also bring special guests Max & Jax to the stage. So, it's time to meet the "Boyfriend" singers live on stage by booking those tickets now!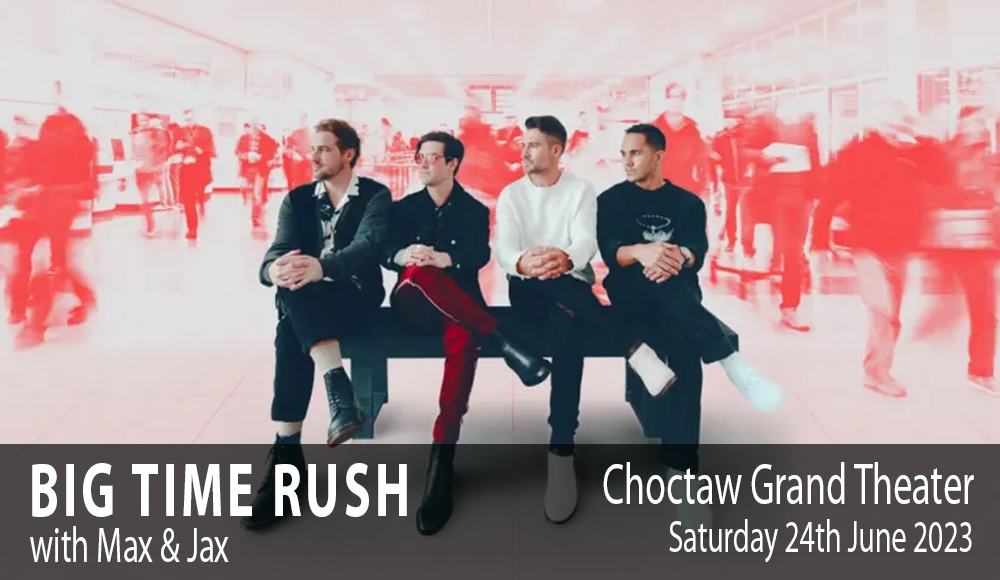 Following a sold-out 2022 North American tour, and a roster of new songs, Big Time Rush is playing it straight, and they just can't get enough, dropping a new single "Can't Get Enough" and a tour of the same name. The massive Can't Get Enough Tour is kicking off this June, hitting the road across over 35 cities on the list. The tour will feature special guests, pop star Max and Tik Tok sensation Jax.
The "Boyfriend" singers just debuted their new single on TODAY, delivering a performance that fans can't get enough of. The energetic track gets people wanting more, as the love-driven boys harmonize and dance to the beat.
"The story behind the song isn't very complicated," BTR shared. "To put it simply, we can't get enough. Can't get enough of making new music and can't get enough of performing for everyone. We are influenced by many different artists, styles, and decades and "Can't Get Enough" is a nod to the disco era. We are so excited for everyone to hear the song and everything else we've been working on."
Kendall, James, Carlos, and Logan recently took the world by surprise back in 2020 and 2021 as they launched their 'reunion'. From an acoustic cover of "Worldwide", the band soon got the world talking, hopping on a nostalgic ride as the one of world's favorite heartthrobs just came back by surprise. Marking their first release since 2013 with "Call It Like I See It" in December 2021, the band kicked off a reunion tour throughout 2022.
"Since our first shows back in 2021, we decided this isn't a reunion," the band said. This is a comeback. The Can't Get Enough Tour is going to be bigger than ever. We are pushing ourselves to make the best show possible so that every night is truly special. This is going to be a tour you do not want to miss."
Selling over 300,000 tickets in last year's sold-out "Forever Tour" reunion, the band is definitely sticking around as they launch an even bigger series of shows as fans couldn't get enough of the boys and their new music. From Nickelodeon stars to global pop icons, Big Time Rush is set for world domination as they launch this big comeback. With a slew of new singles over the last two years including "Call It Like I See It", "Fall", "Paralyzed", and "Can't Get Enough", a comeback album is yet to be formally revealed.
Better stick around for some big surprises by the one and only Big Time Rush at the Can't Get Enough Tour by booking those tickets now!