Choctaw Grand Theater | Durant, Oklahoma
The rock band behind angsty hits that strike the heart singing 'I'm here without you baby, 3 Doors Down is finally back for a show at Choctaw Grand Theater on Friday, July 1, 2022. After taking the world by storm in the year 2000 with their RIAA 5x Platinum debut single "Kryptonite", the band made great waves in the American rock scene with succeeding hits such as "When I'm Gone", "It's Not My Time", and "Here Without You". With 2016's "Us and the Night" being their latest release, the band is set to finally meet their fans again, and perform their best hits and crowd-favorite anthems on a night to remember as live music on-stage comes back to life. Book your tickets now!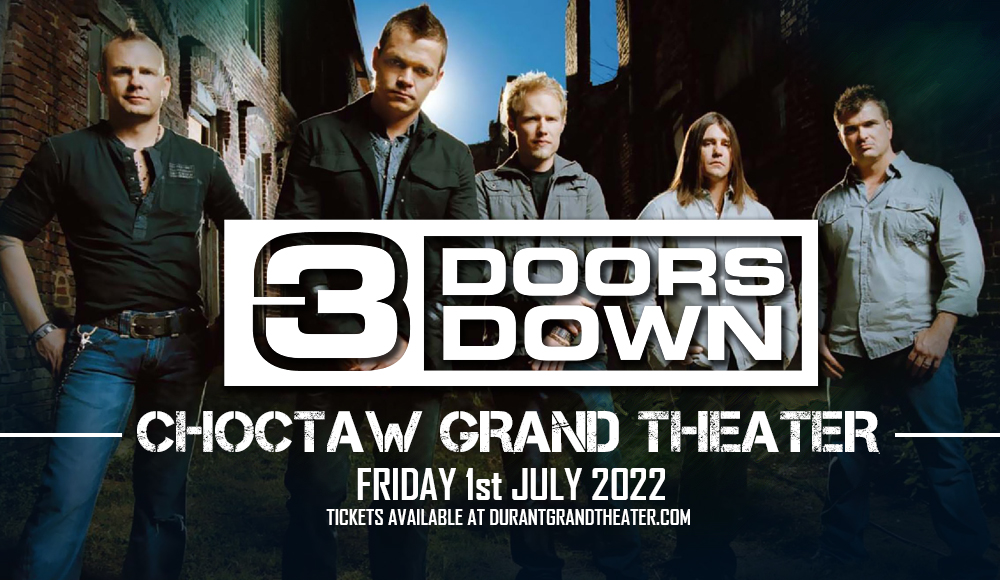 Formed in 1996, 3 Doors Down hails from Mississippi, when the original trio saw a building with fallen letters from its sign, appearing as "Doors Down", adding the number "3", then taking on various gigs. By 1998, their demo cd handed over to a local radio station played "Kryptonite", the track became the most requested song for over 15 weeks.
The Year 2000 marked 3 Doors Down's road to success as their debut single "Kryptonite" off of their debut album "The Better Life" took the world by storm, becoming an international hit. Its follow-up singles "Loser" and "Duck and Run" also proved to be a success. "The Better Life" was the year's 11th best-selling album, selling over three million copies.
With a strong start, the band's succeeding records "Away from the Sun", "Seventeen Days", and "3 Doors Down" produced hits after hit including "Let Me Go", "Citizen/Soldier", "It's Not My Time", "When I'm Gone", and "Here Without You".
By 2011, 3 Doors Down released their fifth studio record, "Time of My Life" featuring its first singles "When You're Young" and "Every Time You Go". At the onset of the new decade, the band faced some challenges and tragedies with a lineup change, and some issues along the way. By 2016, the band dropped "Us and the Night", their latest record to date, featuring the singles "In the Dark", "Still Alive", and "The Broken".
Current members include lead vocalist Brad Arnold, lead guitarist Chris Henderson, drummer Greg Upchurch, guitarist Chet Roberts, and bassist Justin Biltonen.
Having been over twenty years since their strong millennium debut, and 3 Doors Down's music continues to live on as one of the 2000s' best rock hits. Don't miss out on this chance to catch the band performing their biggest hits, as live music makes its return at the Choctaw Grand Theater on Friday, 1st of July 2022 led by 3 Doors Down. Book your tickets now!